You depend upon your UPS to deliver continuous power without disruption. CircuitWorks provides power management, remote monitoring tools, on-site maintenance and installation services critical to ensuring optimal performance, while also minimizing the risks of downtime and extending the life of your UPS. To learn more, click 'Contact' above, call 612-724-7235, or email greg@circuitworks-ups.com.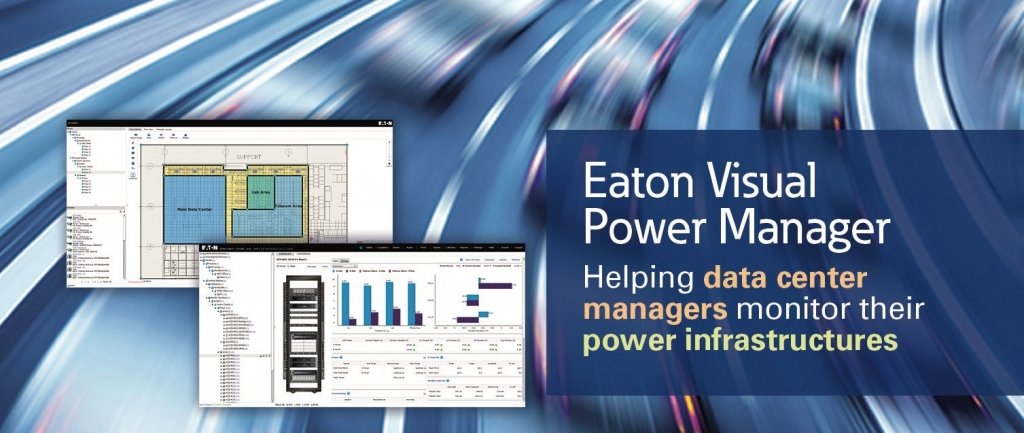 Visual Power Manager (VPM)
Eaton's new Visual Power Manager (VPM) software provides data center managers with effective tools to monitor data center power devices—including all UPSs and PDUs (rack and floor mounted). VPM is easily deployed, simplifies day-to-day monitoring and helps maintain business continuity. VPM allows you to monitor power equipment, create reports, initiate mass firmware and configuration commands, and deliver a visual layout of your data center. This makes it simple to notice trends and to identify and resolve any issues. Comprehensive reporting software saves you time, enabling you to stay on top of power management while focusing on running your data center. Learn how your power management options can be further leveled up by clicking on the next two tabs (Intelligent Power Manager–IPM, and Predict Pulse). For more information and/or a quote, click 'Contact' above, call 612-724-7235, or email greg@circuitworks-ups.com.
Eaton Intelligent Power Manager (IPM)
Eaton's Intelligent Power Manager (IPM) software provides sophisticated tools to monitor and manage power devices in your physical or virtual environment. This innovative software solution ensures system uptime and data integrity by allowing you to remotely monitor, manage and control UPSs and other devices on your network. IPM offers an easy tool to facilitate business continuity. We suggest you consider how IPM relates to Visual Power Manager (in the tab above), and Predict Pulse (in the tab below) to learn how Eaton power software services allow you to maintain control of your critical backup power system. For more information and/or a quote, click 'Contact' above, call 612-724-7235, or email greg@circuitworks-ups.com.

PredictPulse:  Remote Monitoring for Infrastructure Management
With Predict Pulse, Eaton offers an extra set of eyes dedicated to watch over your IT infrastructure.  It offers next-level monitoring and management services that collect and analyze data from connected power infrastructure devices, providing us with the information needed to make recommendations and to take preemptive action on your behalf. It's also powered by CA Technologies, bringing together the best in hardware and software.
Moreover, PredictPulse Insight adds predictive analytics, shifting power monitoring from a reactive to a proactive model. As the first cloud-based analytics service for data center infrastructure to predict the failure of power components, you'll receive real-time status information, time savings and peace of mind that your entire power infrastructure has a second set of eyes on it. For more information and/or a quote, click 'Contact' above, call 612-724-7235, or email greg@circuitworks-ups.com.
Battery Replacement
80% of UPS failures are battery related. Circuitworks' full range of the highest quality OEM sealed lead-acid and lithium UPS replacement batteries enables you to avoid this unnecessary crisis. We supply all types required for any Eaton single or three phase UPS unit to ensure instant backup power to workstations, client servers, communications networks, and mainframe computers. We also offer valve regulated batteries for telecom or other industry specific applications.  Batteries can be shipped directly to your or, if preferred, have us perform replacement. Removal and EPA compliant recycling of spent batteries are included in our battery replacement. For more information and/or a quote, click 'Contact' above, call 612-724-7235, or email greg@circuitworks-ups.com.
Contract Factory Maintenance
To further minimize the risk of downtime we offer regular Preventative Maintenance Services. By means of annual or semi-annual 'PM' visits, the goal is to detect and repair potential problems before they become debilitating and costly. In the long run, by staying proactive with PM maintenance you gain maximum performance from your backup power equipment and increase overall return on investment.
Another layer of protection is provided by our Service Plans that offer experienced technical staff on hand to respond to catastrophic failure, 24/7 if necessary. While routine Preventive Maintenance Service is highly effective in preempting downtime, the focus of our Service Plans is rapid response to the unexpected. Preventive Maintenance and Service Plans may be purchased separately, or packaged together—and always tailored to your exact needs so as to avoid unnecessary costs of services you don't need, and to provide peace of mind that comes with knowing you're prepared for the unexpected. For more information and/or a quote, click 'Contact' above, call 612-724-7235, or email greg@circuitworks-ups.com.
For smaller UPS units, we also offer extended warranty and next-day replacement plans. For more information, click on Extended Warranty Program under 'Solutions' on the home page.
Critical Backup Power Service
An alternative to purchasing a UPS system, contracting for UPS service may be a better choice.
A UPS system as a service provides a quick infrastructure solution for a predictable monthly fee. The result is you can use your capital to expand and grow your business, while transforming what would otherwise be a large capital investment into smooth, operational expense.
Buying a UPS system impacts cash, and is heavily scrutinized by directors, investor or owners. Operational expenses, in contrast, are expensed within the year and allow you to obtain backup power for your critical operations.
Capital Conservation –
Preserve cash to use for expansion and growth within your business.
Budgeting Simplicity–equal monthly payments make budgeting simple and consistent.
Latest Technology–refresh technology on a regular basis.
System Upgradability – Upgrade to a larger system without penalty.
Peace of Mind – Your critical power system monitored & proactively maintained for you Quick Delivery – Avoid the process for capital expense approval or signatures.
WHAT YOU GET:
The latest technology Eaton UPS unit.
8-hour response time, 7 x 24 x 365, from an Eaton service team.
Regular preventative maintenance on UPS and batteries, including faulty battery replacement.
All parts and service covered, no additional or hidden costs.
Only factory-authorized parts for service, no after-market parts of unknown quality or spec's.
BENEFITS INCLUDE:
Easy to Plan – A single, monthly payment for hardware and services.
Future Proof –Refresh hardware as technology advances; trade up if power needs increase.
Eaton Predict Pulse – experts remotely diagnose issues and expedite repairs ahead of failure.
Highest Reliability – New equipment backed by Eaton's service organization.
Expert Assistance – Contract with a Critical Power Specialist, not some financial entity.
Call us to learn more about contracting your UPS system as a service – we are backup power experts for your critical operations.
Onsite Power Review
With an Onsite Power Review, an Eaton power expert visits your site and performs a walkthrough to evaluate your current power status and to identify areas that may need attention. For those areas, we'll suggest power strategies to think about going forward. This is a no-pressure, no obligation, free of charge service. We only suggest ideas and products that will enhance your power management operation, and not infrequently we discover items not needed. If this interests you, click 'Contact' above, call 612-724-7235, or email greg@circuitworks-ups.com.